Illinois is a midwestern state in the United States of America, bordering Indiana in the east and the Mississippi River in the west. The biggest city in Illinois and third largest in America is Chicago
Here are lists of Universities in Illinois:
 ILLINOIS PUBLIC UNIVERSITIES
1. Chicago State University- (CSU) is a state university of the U.S. state of Illinois, located in Chicago. The university is a member school of the Thurgood Marshall College Fund.
Founded in 1867 as the Cook County Normal School, it was an innovative teachers college. Eventually it was taken over by the Chicago Public Schools and became Chicago Teachers College (CTC). Northeastern Illinois University began as a branch campus of CTC. In 1951, the State of Illinois began funding the college, and took it over in 1965, transforming it into a comprehensive state college. In 1967, it became Chicago State University.
2017 – 2018 Annual Tuition & Fees-Out-of-State $16,954 USD
2. Eastern Illinois University- Eastern Illinois University is a state university in Charleston, Illinois.
Established in 1895 as the Eastern Illinois State Normal School, a teacher's college offering a two-year degree, Eastern Illinois University gradually expanded into a comprehensive university with a broad curriculum, including Baccalaureate and Master's degrees in education, business, arts, sciences, and humanities.
Tuition Fee- Out-of-State Tuition: $13,442 USD
Governors State University is a public university located in University Park, Will County, Illinois, United States.
The 750 acres (3.0 km2) campus is located 30 miles (48 km) south of Chicago, Illinois. GSU was founded in 1969. GSU is a comprehensive public university with a broad curriculum, offering degree programs at the undergraduate, master's, and doctoral levels. GSU has four colleges: the College of Arts and Sciences, the College of Business, the College of Education, and the College of Health and Human Services.
Out-of-state tuition and fees are $18,586 (2017-18).
4. Illinois State University- Illinois State University (ISU), founded in 1857 as Illinois State Nor
mal University, is the oldest public university in Illinois and is located in Normal, Illinois.
The University emphasizes teaching and is recognized as one of the top ten
largest producers of teachers in the US according to the American Association of Colleges of Teacher Education.
Tuition & Fees- $16,680
5. Northeastern Illinois University (NEIU) is a public state university located in Chicago, Illinois.
NEIU serves approximately 10,000 students in the region and is a federally designated Hispanic Serving Institution. The main campus is located in the community area of North Park with three additional campuses in the metropolitan area. NEIU has one of the longest running free form community radio stations, WZRD Chicago 88.3 FM.
Tuition Fee
Out-of-State Tuition: $17,079 USD
ILLINOIS COMMUNITY COLLEGES
1. Black Hawk College is a community college in Illinois with campuses in the cities of Moline and Galva.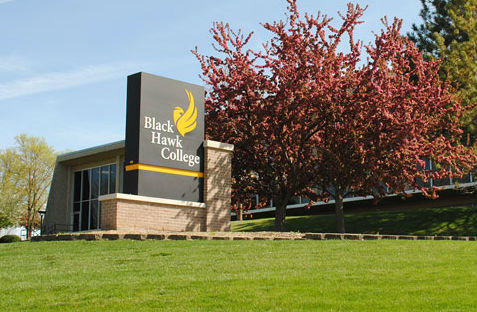 Founded in 1946 as Moline Community College, it became Black Hawk College in 1961. It offers courses in the traditional liberal arts, vocational education, and adult education.
Tuition Fee- Out-of-State Tuition: $7,650 USD
2. Carl Sandburg College- is a two-year community college based in Galesburg, Illinois, and serving the west-central Illinois region. The Main Campus is located in Galesburg, a Branch Campus is located in Carthage, and an off-campus site the Annex in downtown Galesburg.
The college was established in 1966 and is accredited by the North Central Association of Colleges. Along with providing associate degree education for students.
Out-of-State Tuition: $7,078 USD